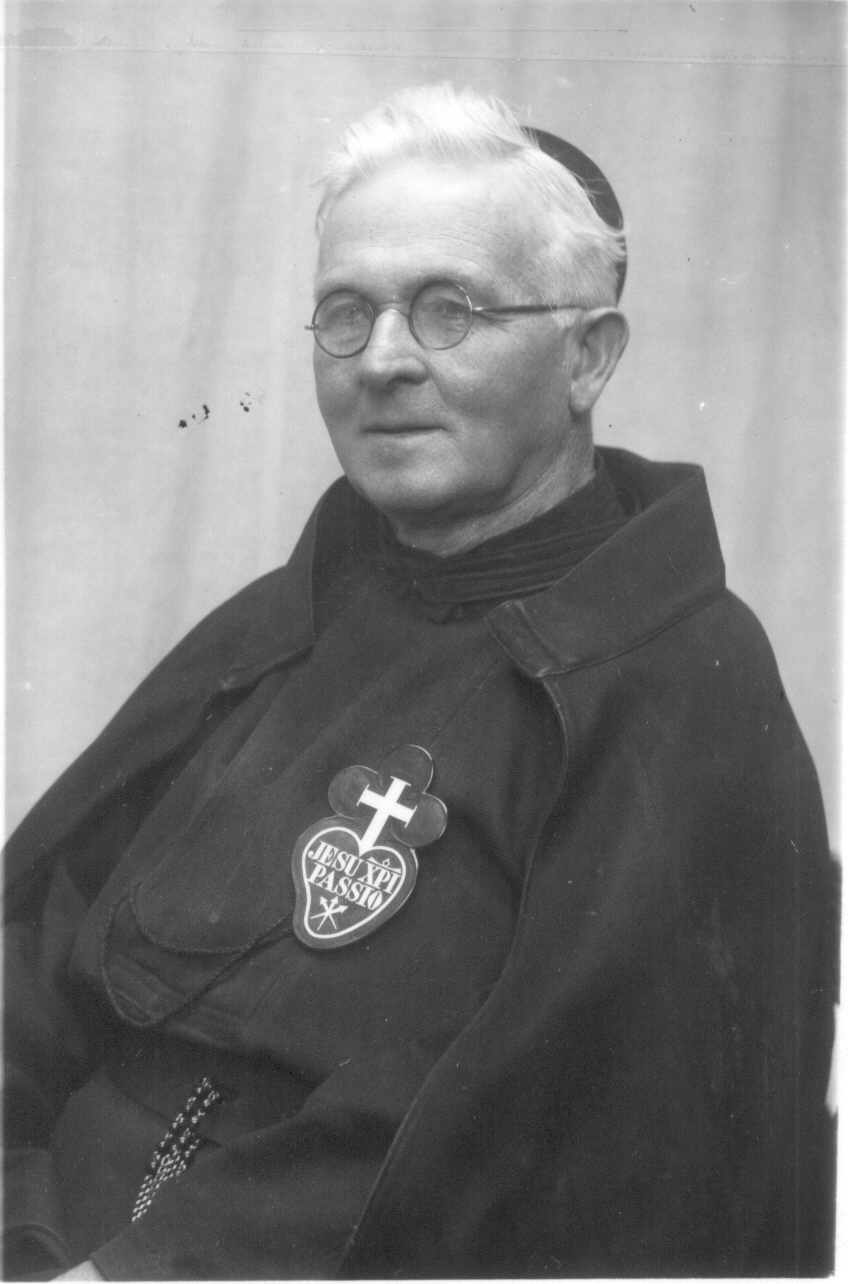 On October 23rd, at St. Patrick's Juniorate, Tobar Mhuire, Crossgar, Co. Down, Brother Columba (McNamee), C.P. celebrated the Golden jubilee of his Holy Profession. On that joyous occasion, he received the well-merited congratulations of his Passionist brethren, as well as of his many friends, who, through the years, had learned to appreciate his kindliness and worth.
A native of Draperstown, Co. Derry, Brother Columba was professed at St. Saviour's Retreat, Broadway, Worcestershire, England. Since then he has rendered unstinted service to God and the Congregation in every sphere to which obedience called him. Throughout the Diocese of Dublin, he is particularly well known, since, from 1910 until 1953, he was stationed at Mount Argus as Questor for the Retreat.
We now gladly offer Brother Columba our cordial congratulations, and while doing so, may we ask our Readers to remember his many intentions in their good prayers?
(The Cross, Vol. XLVI, 1955-56; p. 178.)
COLUMBA McNAMEE
Early on Friday morning, October 26th, Brother Columba (McNamee), C.P., passed quietly – very quietly – to his eternal reward. Strengthened by the grace of the Last Sacraments, he calmly laid aside the burden of his years and labours.

Known before his entry into religion as Michael McNamee, he was born on December 6th, 1877, at Draperstown, Co. Derry. As a young man he embarked on a business career, but soon abandoned it to give himself to the service of God in religion. He entered the Passionate Novitiate in 1904 and on the 23rd October of the following year he was professed at. St. Saviour's Retreat, Broadway, Worcs., England.

Shortly after his profession he was, appointed Questor. In that capacity he gave faithful service to the Congregation until failing health forced him to retire from active work. For a period he was attached to Holy Cross Retreat, Ardoyne, Belfast, but the greater part of his religious life was spent at St. Paul's Retreat,, Mount Argus, where he died. During his long years as Questor he won for himself the respectful affection of the thousands with whom he came in contact. The loss which St. Patrick's Province has sustained by his death will not easily be repaired.
In St. Paul's Church, Mount Argus, Dublin, on Monday, October 29th, Solemn Requiem Mass for the repose of his soul was celebrated by Very Rev. Father Dermot, C.P., Provincial Consultor. Very Rev. Father Valentine, C.P., Provincial, presided. Afterwards the interment took place in the Community Cemetery.
Requiescat in pace.
(The Cross, Vol. LIII, 1962-63; p. 221)
OBITUARY NOTICE of Brother Columba. (McNamee) C.P., of the Sacred Heart.
The end of the long road and of many journeys come at St. Paul's Retreat, Mount Argus, Dublin for Pro. Columba of the Sacred Heart at 5.30 on the morning of Friday, Oct. 26th, 1962. That he had survived so long was a mystery even to his Doctor and to his faithful Nurse, Liam Flynn, who had attended him with admirable devotedness for almost two years. Death came gently to the poor old Brother whose last breath was as the contented sigh of the travel-worn pilgrim laying aside a long-borne burden and joyfully entering that place of refreshment, light and peace where the Lord Whom he had served so well would justly reward his labours.
All through his long life time Bro. Columba strove manfully for Justice and Truth. It was his favourite slogan, often upon his lips, and now we may feel confident that, for him, the lovely words of the 84th Psalm have been realized: "Mercy and truth have met each other: justice and peace have kissed".
Known in secular life as Michael McNamee, Bro. Columba was born at Ballinascreen, Draperstown, Co. Derry, on December 6th 1877. The district was at that time, and indeed still is, a stronghold of the Catholic Faith and vocations thrive there. Two of Bro. Columba's brothers answered the call to the Secular Priesthood and both were ordained for the Diocese of Derry. One of them, Fr. Edward McNamee, is at present Parish Priest of Feeney. Bro. Columbia, however, even at the age of 22 had not yet felt the first stirrings of the call to Religious life. He betook himself in the year 1899 to the City of Belfast to try his fortune in the world.
He retained vivid memories of the gay celebrations held on December 31st 1899 when people laughed and sang and danced in the streets to usher in the new century, little dreaming of the horrors and hardships of war that the new century would bring. No sense had they of ills to come, nor care beyond the day.
For the next four years Michael McNamee held the post of bar attendant at a licensed premises in a densely populated district not far from the City centre. During those years he had ample opportunity to observe the vagaries of human nature. His position often thrust upon him the role of confidant, which gave him a keener insight into human problems and this hard won knowledge was to stand him in good stead in the years to come.
Despite the attractions of city life, however, and despite the distractions which must have been part and parcel of his daily mode of living, the strong faith and the religious practice of the young man from Ballinascreen suffered no diminution. Faithfully every week he went to Confession and received Holy Communion at the Church of the Passionist Fathers at Holy Cross, Ardoyne. He was present at the opening of the new Church there in 1902.
Although he enjoyed the fullest esteem of his employer and had earned for himself the deepest respect of his customers, there was still some small dissatisfaction nagging and gnawing at his conscience, and characteristically, during a quiet hour one day he put the question squarely to himself: "Am I serving God or the world here?" From whatever angle he surveyed the situation he felt convinced that it was certainly not God Whom he was serving, and on his next visit to Ardoyne he applied to Fr. Malachy (Gavin) who was then Rector, to be received as a Postulant Brother. He was eagerly accepted and a few weeks later he was installed at Holy Cross Retreat where he spent a year of Postulancy. Bro. John (Walshe) was there at the time, worn out by the Herculean toil of a life time and no doubt, young Michael McNamee must have imbibed a great deal of the spirit of that great pioneer of the Province. Before leaving for Broadway, Worcestershire, England to make his Novitiate he had a chance meeting with the Rector of Mount Argus, Fr. Wilfrid (O'Hagan) who on learning that the Postulant was from Co. Derry, suggested that his name in Religion should be Columba.
Sick and shaken after the boat and train journey the prospective novice arrived at Broadway where he was met with pony and trap by the Master of Novices, Fr. Hilary (Mara) that prince of preachers and matchless Missioner. And so in a pony trap with Fr. Hilary at the reins, the future Bro. Columba at the age of 27 set out for the Novitiate.
The patent sincerity and the sterling qualities of the new Novice delighted the Master of Novices. It was quickly observed that once Bro. Columba had made up his mind on any subject his views were expressed with down to earth directness and with devastating finality.
He made the Profession of Vows on Oct. 23rd 1905 and shortly afterwards he was transferred to St. Paul's Retreat, Mount Argus, Dublin where he was assigned to the quest. The task of the Brother Questor is at any time an arduous one, but in those early years of this century it was truly an endurance test owing to the poor condition of the roads and the limited means of travel.
For close on 47 years Bro. Columba performed the duties of Questor with conspicuous success. Never did he spare himself, and his understanding of people gained by practical experience made him a welcome friend and counsellor and his name was, and still is held in veneration wherever he visited. His simple genuine piety and his friendly unaffected approach endeared him to people of all classes and procured many generous benefactors for the Congregation. When one remembers the rosy-cheeked pleasant face and the genial smile, one is not surprised that he won his way to so many hearts.
The welfare of the Congregation was his chief preoccupation, and it was with extreme reluctance that he accepted his retirement from Questing which failing health forced upon him in 1952. He spent the next four years at St. Patrick's Juniorate, Tobar Mhuire, Crossgar, in comparative quietude, but his eyesight began to fail; his health steadily declined and he was brought back to spend at Mount Argus the few short years that remained to him.
During the last two years of his life he was confined to bed under Doctor's care and attended during the night by his male Nurse, Liam Flynn. His indomitable spirit seemed to keep the spark of life in him, but, as the Doctor had predicted, the end came suddenly, and from the calm serenity of the dead face it was evident that Death had brought a great peace.
May God grant eternal rest to his faithful servant and may the singlemindedness of purpose which was a marked feature of Bro. Columba's life be an inspiration to all of us his brethren in Religion.
The Obsequies took place at the Church of St. Paul, Mount Argus on Monday, October 29th, 1962. Very Rev. Fr. Valentine, Provincial presided at the Solemn Requiem Mass which was celebrated by Very Rev. Fr. Dermot, 2nd Provincial Consultor assisted by Fr. Evangelist as Deacon and Father Clarence as Sub-deacon. Very Rev. Fr. Edward McNamee, Parish Priest of Feeney, Co. Derry, brother of the deceased, was present, but, understandably, declined to celebrate the Solemn Requiem Mass owing to the frailty of age. Many Passionist Priests and Brothers attended from St. Patrick's and St. Joseph's Provinces to pay their last respects to the greatly admired and highly esteemed Bro. Columba whose name and whose deeds will be long remembered.
May he rest in peace.
St. Paul's Retreat, Mount Argus, Dublin.