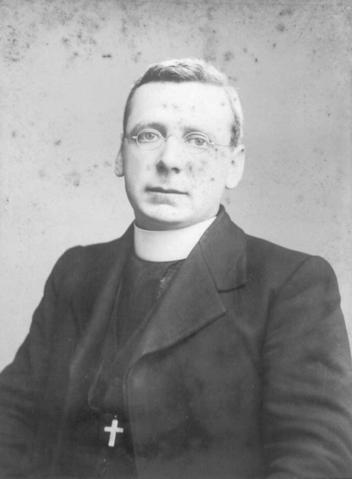 On March 31st, after a prolonged illness, Rev. Fr. Callistus (Henry), C.P., passed to his eternal reward at the age of seventy-seven years.
A native of Belfast, where he was born on April 18th, 1867, Edmund Leo Henry was a member of a staunchly Catholic family. One of his brothers, V. Rev. Francis Henry, also entered the ecclesiastical state and became Parish Priest of Carrickfergus, Co. Antrim. Entering the Passionist Congregation at an early age, Edmund Henry made his religious profession on October 8th, 1886, taking the name of Callistus of the Blessed Sacrament. Some years after his ordination he volunteered for the Australian Mission, and did yeoman service in the Passionist monasteries beneath the Southern Cross. On his return. home he became a member of the communities at Dublin, Belfast, Harborne, Highgate and Herne Bay. At the division of the Provinces, Fr. Callistus remained attached to St. Joseph's Province, but owing to failing health the last years of his life were spent at St. Paul's Retreat, Mount Argus, Dublin.
AMONGST his religious brethren, Fr. Callistus was remarkable for his charity in word and deed. Never was he heard to say an unkind word, whilst he was profuse in his gratitude towards anyone who performed a small service for him. Unsparing with himself, he never minded any personal inconvenience when there was question of visiting the sick or consoling those in sorrow. As a confessor he was highly esteemed for his unfailing patience and his kindly counsel.
His exactness in the religious observance and in the exercises of community life was a constant source of edification to his younger brethren. It was truly edifying to see his white head and venerable figure faithfully in his place in choir for the night office of Matins. Affable in speech, he fulfilled to the letter Cardinal Newman's famous definition of a gentleman: – "One who never gives pain to others."
He bore with unfailing patience and cheerful resignation the many sufferings incidental to the illness which eventually proved fatal. He received the Last Sacraments whilst fully conscious, and a few days later peacefully breathed his last and expired in the peace of the Lord. R.I.P.
(The Cross, Vol. XXXV, 1944-45; p. 17