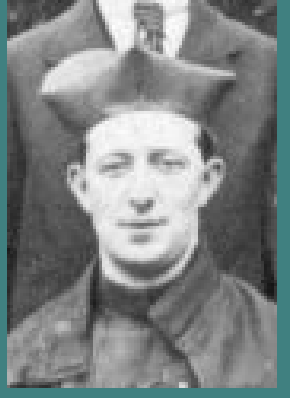 V. Rev. Fr. Brendan (Keegan), C.P.
The announcement of the sudden death, which took place at Londonderry on Thursday, October 26th, of V. Rev. Fr. Brendan (Keegan), C.P., Provincial Consultor, St. Joseph's Retreat, Highgate, London, came as a great shock to the members of St. Joseph's and St. Patrick's Provinces. Though he appeared to be in good health on the day before he died, a heart attack in the afternoon proved fatal and he passed away peacefully next morning.
Known in the world as Joseph Keegan, Fr. Brendan was born at Belfast on October 23rd, 1890. He entered the Passionist Novitiate, Broadway, Worcs., in 1907; made his Profession of religious vows on June 5th, 1908 and six years later was raised to the Priesthood by His Grace, Most Rev. Dr. Walsh, Archbishop of Dublin.
Some time after his ordination he was transferred to the Passionist Alumniate at Sandymount, Co. Dublin, where his period as professor was one of marked success. Those who pursued their studies under his direction have paid tribute to his diligent and devoted efforts. Later, he filled the position of Rector at St. Gabriel's Retreat, Enniskillen, until in 1927 he was elected Master of Novices at Broadway. Worcs.
That he was held in highest esteem by his colleagues is in evidence from the responsible offices that were entrusted to him throughout his whole life. In 1929 he was elected Provincial of St. Joseph's Province, which position he held until 1935, when he became First Provincial Consultor. In 1938 a further expression of the confidence placed in the wisdom of his direction came when he was asked again to accept the responsibility of Provincialship. For another six years he gave himself unremittingly to the cares of his high office until 1944. Since that time until his death, he was Provincial Consultor.
It is no exaggeration to say that Fr. Brendan, has earned a rightful place amongst the outstanding Passionists of these countries. A man of many talents, a priest of deep spirituality and zeal, a superior of prudence, vision, charity and kindliness, he never spared himself in fulfilling what obedience asked of him. In doing that he looked for no other reward or recognition than the spiritual and temporal welfare of those entrusted to his care.
In spite of his many arduous duties as Superior. he was able to devote himself to missionary work, He was in constant demand for Missions and Retreats all over England, and in this sphere of his priestly ministry he revealed all the ardent fervour of the true Passionist he was.
It is not easy to assess the loss we have sustained by his death. One, who has given a generous stewardship in the cause of Christ Crucified, has been called from our midst to his reward; and, while we feel keenly his passing, we are happy in the thought that his memory will be cherished and his inspiring example as a Passionist will be held in honour by all who had the real privilege of his friendship.
We ask our readers to join us in our earnest prayer that God, in His infinite Mercy, will grant rest to his soul.
His Lordship, Most Rev. Dr. Farren, Bishop of Derry, was present at the removal of the remains from Londonderry. A large and representative congregation attended the obsequies, which took place on Monday, October 30th, at St. Joseph's Retreat, Highgate, London.
(The Cross, Vol. XLI, 1950-51; p. 216.)