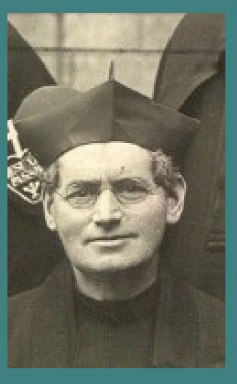 'THE SAINT' : so he was affectionately known among his brethren. Born at Celbridge, Co. Kildare, he was baptised Joseph, on 7th Sept. 1873, four days after his birth.

His early education was with the Carmelite Brothers at Clondalkin; then he went to the Dominican College, at Newbridge. Here he worked hard at his studies, and had some little renown as a runner on the track. When or how he got the idea of becoming a CP, we do not know; but he kept the idea to himself, while he prayed, and sought the advice of his confessor. Then, one day, while his brother and he were opening a field of oats for the reaper , he suddenly threw his reaping-hook over the hedge, exclaiming 'I won't need that any more', and went home and told the mother.

So, in 1894, he arrived at Broadway, Worcs., on 13th July. The following year he was professed on 31st July. Commenting on his becoming a CP, his Obit says: the sole object of his life was to 'become more and more closely united with God. His singleness of purpose and his natural strength of character, supported by divine grace, ably assisted him in pursuing the path of perfection, in putting first things first, and in directing all his energies to fulfilling the ideal of the Rule of St. Paul of the Cross, namely, of becoming a worthy disciple of his Crucified Master'.

Those who knew him in after years will confirm that remained his ideal to the end.
He did his Philosophy and Theology studies at St. Anne's, Sutton, and on Sept. 8th 1901, he was ordained Priest by Dr. Whiteside, Bishop of Liverpool.

Missions and parochial work followed. It is said he asked to be put down for a Sunday Mass every Sunday, so that he could build up a course of Sermons on the Sunday readings, as we'd call them now.
In 1923, he was chosen to fill the office of Master of Novices at the then Novitiate House of the Anglo-Hibernian Province at Enniskillen. In 1927, when that province was split into two Successor Provinces, he was made a Provincial Consultor in St. Patrick's Province. He it was who compiled the old 'Manual Of Community Prayers', and many an article did he write for 'THE CROSS'.

The last 30 years of his life he spent at the Mount, and rarely did he leave its grounds. Christmas Day 1935, as Grace after meals was being said, he collapsed on the floor of the Ref. : It was the first indication of the heart-trouble that would eventually kill him. Eye trouble necessitated the removal of one eye. His end years were those of suffering, — and resignation and acceptance of the sacrifice involved.

On the day of his funeral, there was discovered in one of his MSS books this:

MY LAST WISH

I wish that in the event of my death nothing be published in any newspaper, periodical, or magazine except the day and the hour of my departure out of this life … and a request for prayers'.
But, there was a PS: Salva tamen norma Bonofacii VIII quit dicit "Religiosi professi non habent velle et nolle"'. R.I.P.

Source., Obituary Notice.
GOLDEN JUBILEE OF FR. BONIFACE (CONNOLLY), C.P.
0n Saturday, September 8th, Feast of Our Lady's Nativity, Rev. Father Boniface (Connolly), C.P. had the great happiness of celebrating the Golden jubilee of his ordination to the Sacred Priesthood. To mark the joyful occasion Solemn High Mass was sung in the monastic Choir at St. Paul's Retreat, Mount Argus, Dublin, at which the entire Community assisted.
Amongst the numerous messages of congratulation received by him from clergy, and laity was a special Apostolic Blessing from our Holy Father, Pope Pius XII.
Father Boniface was born at Celbridge, Co. Kildare on September 3rd, 1873. Having received his early education at the Dominican College, Newbridge, he entered the Passionist Novitiate at St. Saviour's Retreat, Broadway, Worcs., where he made his Religious Profession on July 31st, 1895. He pursued his course of. Philosophy and Theology at St.. Anne's Retreat, Sutton, St. Helen's, Lancs., and was raised to the Priesthood by Most Rev. Dr. Whiteside, Bishop of Liverpool, on September 8th, 1901.
He was subsequently engaged in missionary and parochial work at the Passionist Retreats at Herne Bay, Birmingham and Glasgow, where he was for some time Chaplain to Duke Street Prison.
In 1920 he was transferred to St. Saviour's Retreat, Broadway, Worcs., and remained there until his election in 1923 as Master of Novices at St. Gabriel's Retreat, The Graan, Enniskillen. In 1927, on the erection of St. Patrick's Province, he was elected Provincial Consultor for two years. Since 1929 he has been a member of the Community at Mount Argus, Dublin.
A constant reader and an able writer, Father Boniface contributed to THE CROSS in the early years of its existence.
Two of his class-mates share with him the happy privilege of being Golden Jubilarians in the Priesthood. They are: Rev. Father Gabriel (M'Darby), C.P. and Rev. Father George (Dobson) C.P. of St. Joseph's Province.
On behalf of its readers, THE CROSS offers to the venerable Jubilarians joyful felicitations, with the prayer that God may bless and protect and add many more years to lives already fruitful in labours and blessings!

(The Cross, Vol. XLII, 1951-52; p. 100.)
THE LATE FATHER BONIFACE (CONNOLLY), C.P.
WITH deep regret we record the death, on August 19th, at St. Paul's Retreat, Mount Argus, Dublin, of Father Boniface, C.P., in his eighty-fourth year. R.I.P.

As our readers are aware, it is customary to publish a brief obituary notice following upon the death of Passionists of the Province of St. Patrick. In this instance, however, such a notice is omitted by reason of an express wish written and signed by the late Father Boniface to the effect that nothing whatever concerning his life be published in our own or any other magazine or periodical; and his Superiors feel that this last wish of the deceased should be respected.

Accordingly, we merely ask the prayers of our readers for the happy repose of his saintly soul.
(The Cross, Vol. XLVIII, 1957-58; p. 166.)
OBITUARY NOTICE OF FR. BONIFACE (CONNOLLY) OF ST. JOSEPH