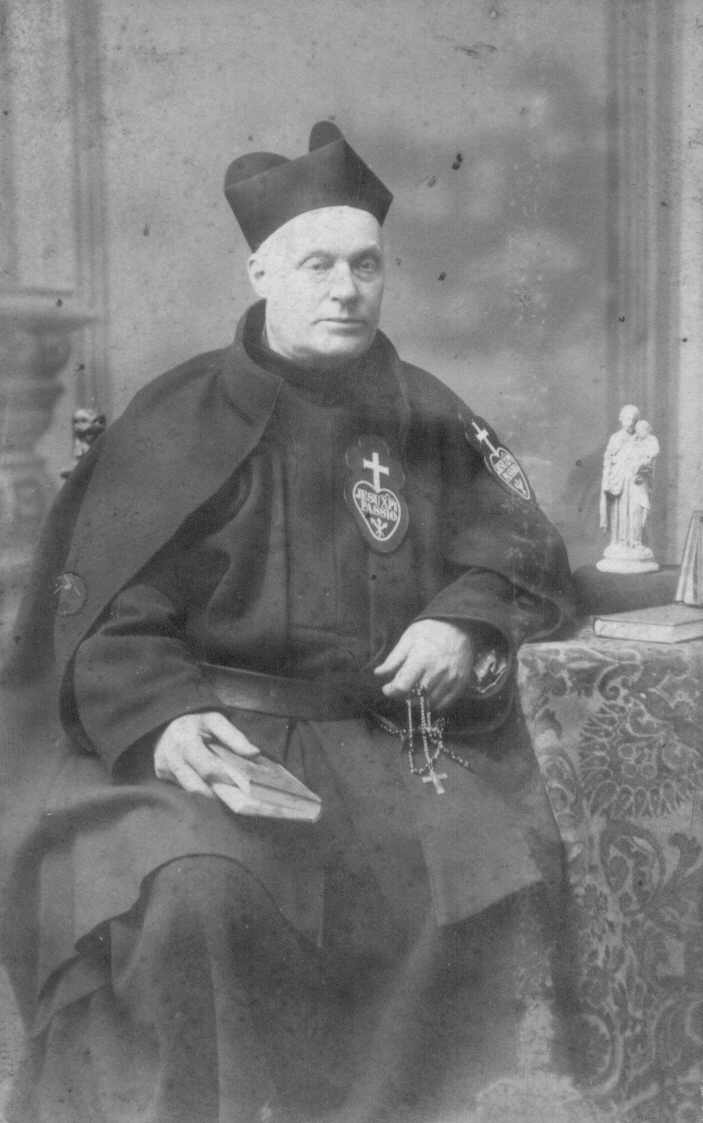 Tacitus has it somewhere that the function of history is to preserve excellence from oblivion. If that be so, it is right that we should recall the career of Fr. Bernard O'Loughlin (1823-1894), for his is amongst the foremost of the many excellent men our Province can boast of.
This account, which deals only with the early part of his Passionist life, is taken from Fr. Salvian Nardocci's Journal (Mt. Argus Archives – referred to here as SN), the Broadway Platea for 1850-1857 (referred to here as BP), "Preachers of the Passion" by Fr. Herbert Greenan (Highgate Archives – referred to here as HG), "The Foundation of the Passionists in England" by Conrad Charles (Highgate Archives – referred to here as CC), and some notes compiled some years ago by Fr. Richard Appleyard.
NOVITIATE & STUDENT DAYS
John O'Loughlin was born in Tunstall, Staffs. of Irish parents on 18th September, 1823. At the age of 22 he was received into the novitiate at Aston Hall by Blessed Dominic, and was the first English-born Passionist to persevere in the Congregation. He was clothed as a cleric on 18th April, 1845, but two of the professed community "came to dislike him in consequence of some misunderstanding, accusing him of being proud." (SN) These two persuaded Blessed Dominic to call a new local chapter at which Conf. Bernard of the Blessed Virgin Mary, as he was now called, "was excluded from the condition of a cleric, and as a favour they received him as a lay-brother." (SN) When, in the Chapter room, this decision was made known to Bernard "the poor young man humbly replied that he was most willing to be as they decided, provided he was left in the Congregation." (SN). He was then put to work in the kitchen. "Fr. Bernard told me," writes Fr. Salvian, "that working in the kitchen or in the garden or studying in his room with the prospect of some day being a priest, did not make in him any difference, and that he was most happy in either of them (sic); his being a Passionist was his only desire, whether clerk or lay-brother was for him the same."(SN)
But so satisfactory was Bro. Bernard as a novice, and such were his qualities and abilities, that the same two Fathers who had previously opposed him now asked Blessed Dominic to hold another chapter to re-instate him as a cleric. This was done and his novitiate started again on 1st. May, 1845. He was professed as a cleric the following year on 2nd May. (Catalogue, 1878)
A serious illness, which the doctors thought would prove fatal, prevented him for a time from beginning his studies, and this caused him "great despondency and discouragement." (SN) Blessed Dominic, his confidant in this trial, always consoled and encouraged him, and foretold that he would do more good in his life than his fellow students, even though they were more learned.
His studies were done at Woodchester under Fr. Raphael Gorga, and as a student in Major Orders he was sometimes appointed to give catechetical instructions in the church, and did so very successfully. He was ordained on 22nd September, 1849. He was stationed first at Aston Hall until October 1850 when he was sent to The Hyde. He remained there until 30th January, 1951 when he was moved to Broadway where for the next twelve years he exercised a remarkable and fruitful apostolate while at the same time engaged in giving missions and retreats.
PARISH WORK AT BROADWAY
Fr. Bernard's first sermon at Broadway seems to have made a deep impression, for "the audience was struck with amazement at his preaching. It caused great commotion and the people said that they had never heard such a sermon in their lives." (BP)
Soon after his arrival in Broadway his first work was to make a house-to-house visitation. The account in the Platea gives a valuable insight into his apostolic technique. "Fr. Bernard went to Fr. Lewis (then the Vicar) and asked permission to go into the village in his religious habit. He at first refused, fearing lest some harm might befall him; but Fr. Bernard persisted in his request which was accordingly granted. When outside he knew not at first what to do or where to go. He took it into his head, however, to go from house to house to find out the Catholics.
He had not proceeded far when he found himself surrounded by a crowd of children. To these he addressed himself very kindly and commanded them to form into troops, which they did with great expedition but with still greater pleasure. Thus did Fr. Bernard parade the streets; the boys and girls in number increasing as he proceeded. After he had walked about the village for some length of time he conducted his regiments to the monastery gates and then he invited them in. But, poor children, they were afraid to enter. One proceeded up the garden a little, but soon repenting he retreated again as fast as he could; another did the same, each one encouraging the other to enter, but everyone afraid. At last, one bolder than the rest entered; the others of course followed like sheep. When in the Retreat …. they were made to sing …. which they did with right good heart.
After that Fr. Bernard told them some stories, gave them some instructions and presents, and finished by kindly inviting them to come again. They promised to do so, and after this nearly every evening at the same time Fr. Bernard gave them and others who liked to come instructions in our Holy Faith….. After this…. Fr. Bernard very frequently went out in his religious dress and on these occasions he was mostly attended by his juvenile guard of honour." (BP)
On 13th March, 1851, Fr. Bernard was made Vicar at Broadway, and formally appointed to look after the parish. His next care was to ensure the proper instruction of the parishioners. Every Sunday, Wednesday and Friday evening from the end of 1851 until 1856 he gave catechetical instruction to the people in the School. Again, the account in the Broadway Platea reveals Fr. Bernard's technique and shows him as a man ahead of his time.
"These instructions," the account states, "were very amusing indeed; the truth is he purposely made them so in order to render them enticing as well as instructive to the attenders. Sometimes he gave them lectures, sometimes read to them a little story, and sometimes explained difficulties suggested. In the beginning for a few times he took Brother John (Walsh) with him who acted as a Protestant minister. Fr. Bernard responded to his enquiries and answered his objections as though Bro. John really was a parson.* This of course pleased the people very much. During these instructions he generally sat on a chair with a table by his side, and on that table he placed the Bible and other necessary books for references… The people were like so many children round a parent, and Fr. Bernard seated in the very midst of them looked for all the world like the Patris (sic) familias teaching the domestic circle." (BP)
[* This pre-dates the C.M.S. "double pulpit" technique by a hundred years! In the Provincial Chapter of 1969 a long debate took place about our Brothers being allowed to engage in "the direct apostolate." We were 100 years out of date!]
These instruction, started for the Catholics of Broadway, eventually turned out to be "convert classes", about which more later. The Platea concludes: "The instructions given by Fr. Bernard in the school were always well attended; indeed sometimes the place was crowded to excess, and very many Protestants were received into the Church." (BP)
This remarkable and versatile man then turned his attention to improving the Devotions in church, and for his purpose he formed the first secular choir in Broadway. He selected the singers from amongst those who attended the instructions mentioned above, and trained them himself on Wednesday and Friday evenings. This went on until the close of 1856 when, during his absence on a mission in Ireland, the choir fell through. The Broadway Platea throws an interesting light on Fr. Bernard's charm and character. "During his absence," the chronicler writes, "Fr. Raphael undertook the singing lessons. But unfortunately the singers had not that love and respect for him which they had for his Vicar; so the choir became so unruly and disordered that when said Fr. Bernard came home, he found them ungovernable. He therefore at once broke up the singing lessons and suffered the choir gradually to drop off." (BP)
Nothing daunted, however, Fr. Bernard started again, this time forming a children's choir, which he trained not only to sing the Mass but Vespers as well. These children sang "every Sunday and every time we have Mass or Vespers, to the great admiration of strangers who happen to come to our chapel." (SN)
Another of Fr. Bernard's achievements while in charge of the parish in Broadway was to establish the Archconfraternity of the Immaculate Heart of Mary in October, 1853. This seems to have been something in the nature of our present-day "Perpetual Novena" – with petitions and prayers for special intentions.
Permission to start this Confraternity had been granted by the Bishop as early as February, 1853; the delay in implementing the permission says much for Fr. Bernard's prudent approach to people's needs and capacities. The bulk of the congregation in Broadway at that time were converts, and Fr. Bernard realized that they needed further instruction before being admitted as members of the Confraternity. "So every Sunday regularly for five or six months he explained the Confraternity to the people and read the letters concerning the wonders of the same."(BP)
Fr. Bernard himself has left us this account of the intentions prayed for, and the success of the prayers:
"Up to August 26th of the year 1854 the intentions were written in another little book, and thanks and praise to God and his blessed Mother, many of the things we prayed for were attained. I now regret my negligence in not marking them down as they occurred; but our book (status animarum) is a sufficient record as they are all the fruits not of preaching etc., but of prayers to the Blessed Virgin Mary.* I might extract from the little book above mentioned some of the graces obtained, but for brevity's sake I will merely give the substance in a few words, viz….
Many were prayed for who had not humanly speaking courage to follow up their convictions regarding the Catholic faith. Our prayers were heard and they fearlessly laid aside all human respect and many of them bravely faced poverty and reproach for the sake of Religion.
The sick have benefitted much by the prayers of the Archconfraternity. In several instances when medical aid failed the prayers of the members were available." (BP) He then cites two cases in particular:
1) A woman cured of recurring abscesses on the lower spine together with scarlet fever and symptoms of rapid consumption. The doctor had declared the case hopeless.
2) A woman suffering from galloping consumption and with only a week to live. In this case the doctor declared publicly before witnesses that "all hope of recovery was vain and nothing could cure her but a popish miracle." (BP) Within a week of the Confraternity prayers being said she had completely recovered and disease did not recur.
[* It is interesting to note here how Fr. Bernard links all his apostolate with public prayers, and how he attributes little to his own work and all to the prayers said.]
By 1858 attendance at the Confraternity meeting seemed to have dropped off considerably. Fr. Sebastian Keens tried to revive it in the Spring of that year, but without success. Still, for some time afterwards the Confraternity prayers continued to be said at Sunday Evening Devotions immediately after the Rosary and before the sermon. Up to then the Confraternity Devotions had been held after the 8 a.m. Mass on Saturdays.
The effects of Fr. Bernard's work in the parish at Broadway are shown in the following statistics:
In 1850 the Catholics in Broadway numbered 40, of whom only 14 were practising. By 1857, when Fr. Bernard became Rector of Broadway and relinquished his parochial duties, the Catholics numbered 200, or whom 124 made their Easter Duties that year. The number of children in the school had increased from 76 to 104.
It is a tribute to Fr. Bernard's zeal that Archbishop Ullathorne on his visits to Broadway always expressed his delight at the fervour of the people, their attendance at the services and their frequent reception of the Sacraments. (v. SN)