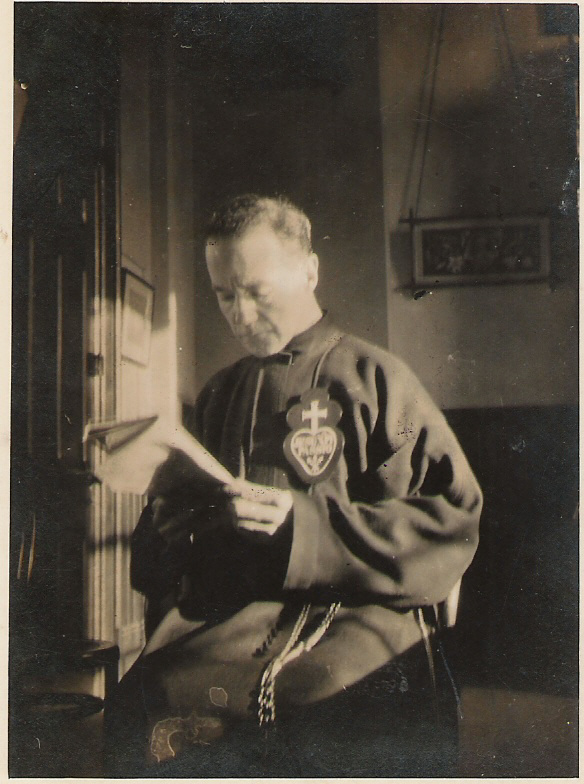 BROTHER BENIGNUS (REIDY), C.P.
Brother Benignus of Our Lady of Sorrows breathed his last at St. Saviour's Retreat, Broadway, Worcestershire, on December 10th. For some time past he had been an invalid; in fact his health had been poor for many years, as he suffered from a weak heart. On more than one occasion previously, when obliged to relinquish his daily duties through weakness, it had been feared that death was nigh; but he came through these heart attacks successfully until the last one seized him some weeks ago. For nearly a month he lingered at death's door, until the great summons called him from Time to Eternity on the above-named date.
Known in the world as William Reidy, Brother Benignus was born at Listowel, Co. Kerry, on June 6th, 1870. At the age of twenty-nine he sought admission as a lay-brother into the Passionist Congregation. He received the habit of the Congregation at Broadway in September, 1900, and, having performed the customary Novitiate, was professed twelve months later, on September 11th, 1901. The Novitiate of the. Province was in those times at Broadway. Thus was Brother Benignus destined by a providential coincidence to commence and end his life as a Passionist in the same old-world village among the Cotswold Hills In Worcestershire.
During the twenty-four years that he spent as a Passionist Brother, his domestic activities were performed principally in Dublin, Sutton (Lancs), Harborne (Birmingham), and Broadway. The office most frequently entrusted to him was that of Sacristan, and it is by his efficiency in this duty that many will remember him best.
Any reference to the deceased, however brief, would be incomplete were mention not made of his constant devotion to ejaculatory prayers and his practical use of the Indulgences of Holy Church. In his ordinary daily goings and doings his lips were always seen to be moving in prayer. Thus did he take to heart in a special way the Apostle's advice: "Pray without ceasing" (1 Thess. v. 17), not only by offering his daily actions as love-tokens to God, but also by vocal prayers and indulgenced ejaculations.
He was possessed of a wondrous sympathy and kindness, and his big, warm heart melted at every form of suffering and sorrow. Even in his trying and tedious illnesses, which mere frequent, he was ever cheerful with a God-given patience and resignation. A sweet simplicity adorned his entire nature, and his greatest friends were amongst the younger religious whose pleasure it ever was to minister to his trifling needs and cheer the invalid's lonely hours, whilst his gratitude for the smallest service was warm and true as the heart from which it sprang.
The spirit in which he lived his life as a Passionist may be briefly described by saying that he realised that "the greatness of a soul, which is not set apart through a strange providence, is not in marvellously fast and miraculous work, but in quietly and steadily lifting one's own everyday life up to the sublime simplicity of the Workman Christ" – Mary's Son at Nazareth.
Requieum aeternam dona ei, Dominei et lux perpetua luceat ei.
(The Cross, Vol. XVI, 1925-26; p. 295)
J.X.P
Brother Benignus of Our Lady of Sorrows
On the fest of the Translation of the Holy House of Loretto, Brother Benignus of Our Lady of Sorrows, passed to the better life in the Retreat of St. Saviour's, Broadway, Worcestershire.
For many years he had been an invalid, suffering much, especially in the winter months. At the beginning of the present winter he took to his bed, but we hoped that with the coming of Spring, he would be up and doing. God willed it otherwise: in His great pity, He spared His faithful servant, further pain. "Pain which by nature leads us only to ourselves, carries the Christian mind from the thought of self to the contemplation of Christ, His Passion, His Merit, His Pattern". So had suffering acted on Brother Benignus. Self was forgotten and almost every thought was on Christ and Him crucified.
We all knew him as a man of prayer. He was for many years sacristan: and this office gave him opportunities of spending golden hours in prayer before the Blessed Sacrament. We remember him, as we had so often seen him, with uplifted face, gazing with yearning eyes towards the tabernacle. Someone has said that our true character betrays itself in dying. Our Doctor, a Protestant, after Brother Benignus' death, said he never went into the sick Brother's cell but he found him praying. During the last six and thirty hours of his life, he prayed without ceasing: his last breath was an act of consecration of himself to his Master, whom he had so faithfully, so generously served. "Sacred Heart of Jesus, I consecrate anew my body and soul to Thee": with these words on his parched lips, the soul of Brother Benignus passed into the presence of that Sacred Heart, which, in the words of St. Bonaventure, is the Heart of a King, the Heart of a Brother, the Heart of a Friend.

From that Sacred Heart he had learned to suffer and be silent: humility and, as a consequence, gentleness in manner: love of the poor: great zeal for the conversion of sinners. He prayed fervently: much to win souls for Christ. And not only prayed but disciplined his frail body. knowing that there is only one way to win souls for Christ, and that is "living Christ from day to day".

He was regarded by all who knew him as a most saintly religious. He joined our congregation in 1901, then in his 22nd year. Only 2 relatives of his, of whom we know, are Dr. Reidy of the United States, his brother, and a cousin, Sister Mary Augustine, of the Redemptorist Convent, Drumcondra, Dublin.

On Friday after Brother Benignus' death, the entire office was said for the repose of his soul, and on Sunday at 10 a.m. a solemn Mass de Requiem was sung by his confessor, Fr. Brendan, Vicar, who was assisted by Frs. Lambert and Conleth, Fr. Oswald acting as Master of Ceremonies. The cantors were V. Rev. Fr. George and Rev. Fr. Cormac. After mass, the remains of Brother Benignus were laid to rest amid the weeping of many who loved and revered him, at the door of our Church in Broadway. He lies in the same grave as Bro. Isidore of holy memory. This favour he had asked from Fr. Rector a few days before his death, and the rector kindly granted it.

"Sacred Heart of Jesus, which Thy servant Benignus didst love so tenderly, have pity on his soul".
George of Our Lady of Good Council,
Rector.
St. Saviour's,
Broadway.