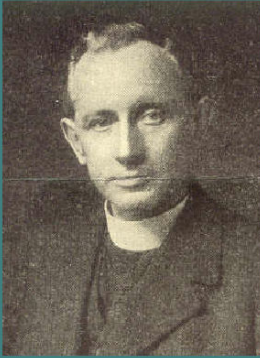 Of late years the month of December has rarely passed without the melancholy necessity of recording the death of at least one Passionist in these countries. The year 1936 proved no exception, for in the early portion of the month we had to chronicle the death of Fr. Celestine (Whiteside), C.P. The loss was not indeed unexpected, for the late Fr. Celestine, who never enjoyed very robust health had been gradually failing for some months previously.
Known in the world as Thomas Whiteside, the deceased Passionist was a native of Tydavnet, Co. Monaghan, in the Diocese of Clogher, where he was born on November 23rd, 1877. He had been for some years at business in Belfast before he felt attracted towards the religious state. Making the considerable sacrifice which a vocation necessarily entailed, he crossed to London, and having manifested his desire to the Provincial of the Passionists at Highgate, he was accepted as a postulant. After spending some time at a Retreat which the Passionists then possessed at Wareham, Dorsetshire, he proceeded to St. Saviour's Retreat Broadway, and when the year of probation had been completed he made his profession on January 24th 1900.
His student days were passed at Mount Argus, Dublin, but before long the delicacy of health, which was to be a constant trial to him in the later years, commenced to manifest itself. Despite the interruptions caused by illness he pursued his ecclesiastical studies with such diligence and zeal that the Superiors judged it opportune to expedite his ordination. Accordingly he was raised to the priesthood on June 9th. 1906, by Most Rev. Dr. Walsh, Archbishop of Dublin, and the general expectation was that but a few short years of priestly life awaited him. But Fr. Celestine confounded the gloomy prophecies of the pessimists, and fighting the battle against ill-health with dogged perseverance, he laboured in the apostolic ministry for more than thirty years before he laid down his burden.
At various times he was stationed at the Retreats of Highgate, London; Herne Bay, Kent; Broadway, Worcs., and Enniskillen Co. Fermanagh, whilst his last years were spent at St. Paul's Retreat, Mount Argus, Dublin. In all these places many cherish vivid memories of his multifarious activities. Although he was seldom in the public eye, he never spared himself in hidden and unobtrusive labours undertaken on behalf of those who sought his aid in trouble or distress. At Mount Argus he was engaged for a considerable time in delivering the catechetical lectures at the early Sunday Masses, and those who heard his clear exposition and lucid explanation of fundamental Christian doctrines profited not a little from his zeal and his eloquence.
This latter work was particularly congenial to him, and admirably suited to his Special talents. Gifted with a penetrating mind and more than ordinary intellectual capacity, Fr. Celestine had he so desired might have made a name for himself as a theologian of merit and repute. Characteristically shunning all publicity, he placed his rare gifts at the disposal of his brethren, and was ever ready and eager to give his assistance in the solution of difficult cases of conscience. Many who profited by his prudent and practical advice will mourn the loss of a true and faithful counsellor.
Many a man might have been cast down and discouraged by a constant and losing battle against ever-increasing ill-health, but Fr. Celestine was temperamentally well-equipped for the contest. Again and again, when grave fears were entertained for him he struggled back to regain his broken strength and to resume his wonted activity. Far from being dispirited by intermittent illness, Fr. Celestine, made light of his infirmity and refused to be treated as an invalid. Often when another man would be confined to bed or to a sick-room, he would doggedly carry out his accustomed duties, refusing to admit defeat. Endowed also with a ready wit and with a fund of anecdote, Fr. Celestine was ever a cheerful and a good companion. Often he enlivened the recreation period with his adroit comments and his witty repartee, yet it was to be remarked that he never allowed any suspicion of acrimony or uncharitableness to mar his mirth. His wide human sympathy made him listen with untiring patience to those who came to him with a tale of woe, and their unaffected gratitude he felt to be a sufficient reward.
About last Easter his health began obviously to decline, and in spite of a temporary amelioration, it was soon apparent that the inevitable end could not be long delayed. With that patient fortitude which had distinguished him during life, Fr. Celestine awaited the final summons which came to him on the morning of December 9th. It was surely more than a coincidence that on the Feast of the Immaculate Conception, his life-long devotion, Fr. Celestine should make his proximate preparation for death; and we may confidently hope that the Queen of Heaven protected his passing and presented the soul of her servant to her Divine Son. May he rest in peace !
(ex. "The Cross", January 1937, Vol. XXVII, p. 409)