Read Time:
2 Minute, 24 Second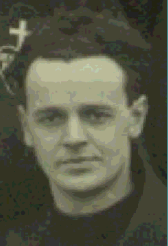 Only three days after Bro. Luke's death, the Community of Mount Argus suffered another loss. This time It was Fr. Albert of Jesus and Mary who died on July 28th., 1965. Although he had been suffering from a heart condition for several years, the end came suddenly after had officiated at the wedding of a nephew.

Born in Dublin on April 10th. 1899, James Bartholomew Dunne at first entered the Civil Service and for some years was employed in the Post Office Administration in London. But the prospects of a Civil Service career held little attraction for him. He had higher ideals in view, other spiritual aspirations, and after a period of prayerful consideration, he applied for admission into the Passionist Congregation. He was duly accepted and made his religious profession at St. Gabriel's Retreat, Enniskillen on November 13th., 192I. He completed his studies for the priesthood at St. Paul's Retreat, Ilkley., Yorks., where he was Ordained on January 13th., 1929 by Rt. Rev. Dr. Cowgill, Bishop of Leeds.

His early years in the priesthood were spent in parochial work In our houses at Belfast and Glasgow. In 1947. he was appointed Vicar of Holy Cross Retreat, Ardoyne, Belfast, and in 1950, on the death of Fr. Cormac Healy, he was elected Rector of St. Mungo's Retreat, Glasgow, being re-elected three years later.

He was devoted to the apostolate of the sick, and especially to the care of those in danger of death. Often he kept vigil by the bedside of the dying, and his presence brought them comfort and consolation. Equally assiduous was his attendance at the confessional, where his prudent counsel was spiritually profitable to the many who sought his advice.

For many years he had been a successful missioner. but the precarious condition of his health prevented him from engaging in the more active ministries. He often assisted local Superiors in keeping Mass registers in order, especially those dealing with the deceased religious and the November Dead List. His neat and careful handwriting, his use of special notation in different coloured ink, his meticulous care to have the registers always up-to-date and accurate, all indicated that he was faithful to his early training.

It was obvious for several months that he was in failing health, and indeed it is likely that he had a premonition that he would have a sudden death. On more than one occasion he remarked to a fellow-religious: "If you knock on my door and there is no answer, always look in to see that I'm not dead of a heart attack". It was indeed in such a fashion, although not precisely where and when he had expected it, that death called him to his eternal reward. May he rest in peace.
St. Paul's Retreat. Mount Argus, Dublin.
Signed: Aidan of the Immac. Heart of Mary, Rector.